To ensure that the security sector has the operational ability to effectively respond to violence against women and girls, system-wide investments in institutional capacities, structures and processes are required, including improving skills and knowledge of personnel to respond to incidents, protect victims, and investigate and refer cases.
Police have a critical role to play in addressing VAWG in terms of creating secure environments, responding to complaints, conducting confidential and survivor-centered interviews with alleged victims, undertaking investigations and, in some settings, appearing in court. However, poor infrastructure, lack of skills and knowledge related to VAWG among security actors, absence of sector-wide policies and protocols for addressing VAWG, and poor accountability within and across the security sector often contribute to weak capacity. In post-conflict settings there often exists an urgent need for systematic reform of the police, especially to prevent VAWG (Denham, 2008).
Police reform is a central component to SSR. In post-conflict settings police reform should focus on how police services can better prevent and investigate crimes of violence against women and girls, provide support to survivors, and establish effective mechanisms to prevent and punish such abuses committed by police personnel (Bastick et al, 2007). Police reform strategies should aim to make the police service as a whole more gender representative, gender sensitive and more responsive to violence against women and girls.
When implementing police sector reform related to VAWG, it can be useful to use the following guidelines and recommendations (adapted from Denham, 2008, pgs. 2 & 3, unless otherwise noted):
1. Conduct assessments and develop and monitor operational strategies
Conduct gender-responsive assessments or audits of police services that focus specifically on gender issues related to VAWG, such as women's recruitment in police forces, rates of sexual harassment within police forces and responses to multiple forms of VAWG.
2. Ensure gender-sensitive policies, protocols and procedure
Develop operational protocols and procedures for assisting and supporting survivors of violence against women and girls. These should include protocols for interviewing survivors and investigating VAWG crimes, for documenting VAWG, and for referrals to health, psychosocial and legal services (Bastick et al, 2007).
Establish gender-responsive codes of conduct and policies on discrimination, sexual harassment and violence perpetrated by police personnel. Codes of conduct and policies should be implemented with proper training, and internal (police reporting on police) and external (civilians reporting on police) accountability and oversight mechanisms should be established (Bastick et al, 2007).
Create incentive structures to award gender-responsive policing along with respect for human rights.
Review operational frameworks, protocols, and procedures with:

Existing women's police associations and other police personnel associations to identify the current situation and reforms required.
Community policing boards, civil society organisations, including women's groups and survivors of violence, to identify needed reforms and to ensure that protocols and procedures are responsive to community needs.

Determine whether special measures are needed for particular groups (Bastick et al. 2007).
Consider establishing adequately resourced women's police stations (WPS) or specialized units on VAWG in order to encourage more victims to file complaints and improve police responses to VAWG.

Institutionalize units as part of a system-wide approach (which includes the community level) and support them through adequate long-term investment in training and professional resources.
Consider establishing a national governing body for the design and implementation of programmes to improve the quality of service and create standards for women's police stations procedures and service.
Ensure that the units are interlinked with other sectors and the overall system.
Ensure that female officers receive proper training.
3. Ensure a mechanism is in place to vet security personnel for histories of VAWG, including domestic violence
Establish a vetting mechanism in order to ensure that police, military, and judicial personnel against whom allegations have been made of having perpetrated acts of VAWG – including domestic violence - and other serious crimes, cannot be recruited into the security forces. Vetting mechanisms have the following potential positive impact:

(Re)-establishment of civic trust
(Re)-legitimization of public institutions
Facilitation of criminal prosecutions, truth telling, reparations for survivors, and other forms of institutional reform
Enabling condition of other transitional justice measures
May fill the impunity gap by providing a partial measure of non-criminal accountability
Deterring acts of sexual violence by members of the security sector.
(Adapted from International Center for Transitional Justice)
Vetting mechanisms will differ depending on the country and context. Consider the following questions when designing a vetting mechanism in post-conflict settings: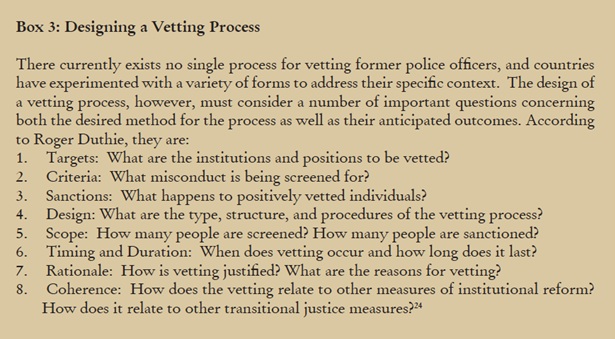 Source: Kumar, S. and Behlendorf. B. 2010. "Policing Best Practices in Conflict / Post-Conflict Areas," p. 17.
Consider capacity and integrity as key qualities required of police personnel to fulfill the technical requirements of their work and to act in accordance with human rights, professional, ethical and rule-of law standards. The Capacity and Integrity Framework (CIF) below can provide a basis for considering these key qualities for new recruits (UNHCHR, 2006):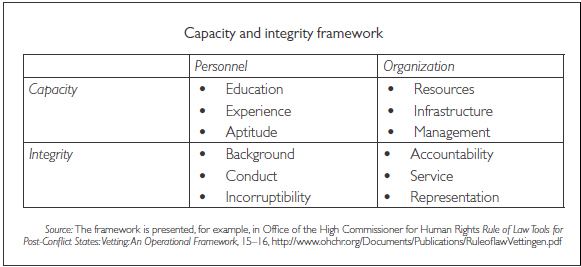 Ensure that special attention is paid to seniority in rank and responsibility and to individuals publicly known to have committed gross violations of human rights. It will be important to single out those whose authority might influence the implementation of a personnel reform process. (MONUSCO, 2009. "Concept Note and Plan of Action Security Sector Reform (SSR) and Sexual Violence.")
Additional Tools
Justice as Prevention: Vetting Public Employees in Transitional Societies (Mayer-Rieckh, A. and de Greiff, P.(eds.) for International Centre for Transitional Justice (ICTJ). 2007). New York: Social Science Research Council. This is a collection of essays systematically exploring vetting practices in a variety of countries and contexts. Avaialble in English.
Rule-of-Law, Tools for Post-conflict states – Vetting: An Operational Framework (Office of the UN High Commissioner for Human Rights (OHCHR). 2006) This tool includes the development of vetting mechanisms for state institutions. Available in English.
Policing Best Practices in Conflict / Post-Conflict Areas (Kumar, S. and Behlendorf, B., 2010). Strategies adopted to counter seven key policing problems faced by Afghanistan. This study addresses many of the policing challenges currently facing Afghanistan, and highlights broad solutions drawn from other contexts to reform and re-legitimize the police. Available in English.
Policing Best Practices in Conflict / Post-Conflict Areas (Kumar, S. and Behlendorf, B., 2010). Strategies adopted to counter seven key policing problems faced by Afghanistan. This study addresses many of the policing challenges currently facing Afghanistan, and highlights broad solutions drawn from other contexts to reform and re-legitimize the police. Available in English.
4. Ensure training on gender and issues related to VAWG for all security sector personnel
Integrate gender training and issues related to VAWG – including sexual harassment – into basic training and into the curriculum of in-service training for active duty police personnel involving all levels of police officers, and including civilian staff. The aim of gender training is to enable the participants to understand the different roles and needs of women and men and to challenge discriminatory behaviour in their daily work. Gender training can enhance the capacity of security sector personnel to respond to the needs of the entire community but most specifically to provide them with the awareness, knowledge, practical skills and techniques required to prevent and respond to VAWG (DCAF, OSCE/ODIHR, UN-INSTRAW, 2008, p. 1).
Where possible, consult with local LGBTI NGOs to explore and identify methods of integrating issues of gender identity and sexual orientation into gender trainings and issues related to VAWG. The aim of including this perspective in gender trainings is to enable participants to understand, challenge, and more effectively respond to instances of discrimination and violence against sexual and gender minorities.
Training on VAWG should aim to increase knowledge and raise social awareness, create attitudinal change and build capacity to respond to VAWG. The curriculum will vary according to participants' prior exposure to gender issues, operational needs and context. It is important to target senior ranking officers as well since changing attitudes must be done institutionally to be effective and sustainable (DCAF, OSCE/ODIHR, UN-INSTRAW, 2008, p. 2). Topics might include:
Training on VAWG

Aim

Potential Topic

Increase knowledge and social awareness raising

The role of the police and law enforcement
Definitions and overview:
What is gender and gender equality
What is VAWG (including domestic abuse)
What is the link to HIV/AIDS and the importance of PEP

International human rights norms and standards
National and local legislation on gender and VAWG
The socio-cultural context in which VAWG occurs
Understanding the needs of survivors and required services
Inter-agency collaboration and support
Characteristics of Offenders
Do no harm" principles and ensuring a survivor-centered approach

Police attitudinal change and sensitization

Self-awareness
Life skills
Awareness of VAWG, gender and sexuality

Capacity building for response to VAWG

General investigative process: victims, suspects, crime scene, witnesses, evidence collection, writing reports
Understanding local laws, institutional codes of conduct and policies on discrimination and sexual harassment
Protocols and practices on:
Domestic violence
Rape
Sexual assault
Stalking
Human trafficking
Anti-gay violence
Child abuse

Specialized communication and interview skills
Service provision for victims and families
Risk Assessment and Safety Planning
Risk reduction and prevention activities
Techniques for handling survivors: giving options not advice
Community based services available for survivors and families
Caring for populations with special needs (children, disabilities etc)
Referral mechanisms
Monitoring progress of investigation
Consider establishing new training and educational units that can play a pivotal role in strengthening weak police organizational structures in post-conflict settings.
Ensure that the trainers and facilitators are qualified and well prepared:

Consider involving women's civil society organizations in gender training activities for police personnel both in the design and implementation. These organizations may bring specific technical expertise to gender training and their involvement in police training can help to build trust between the community and the police (adapted from Bastick et al, 2007).
Reach out to experts such as United Nations Police Officers (UNPOL) who are deployed at the same time as military personnel in most peacekeeping operations or as advisers to UN special missions. UN Police Officers help promote peace and security in many countries by supporting the reform, restructuring and rebuilding of domestic police and other law enforcement agencies through training and advising. They develop community policing in refugee or internally-displaced persons camps, they mentor and in some cases train national police officers, they provide specialization in different types of investigations and in a number of countries they help law enforcement agents to address transnational crime. In some missions, UN Police Officers are directly responsible for all policing and other law enforcement functions and have a clear authority and responsibility for the maintenance of law and order. As a result, they have become highly specialized and continue to develop tools and trainings relevant to policing in post-conflict settings. (United Nations Policing).
Monitor and evaluate trainings, and use the results to improve future training and resources, as shown in the diagram below. Changing the culture of an institution requires long-term goals and planning: 'one-off' trainings will not change the culture of an institution. Ongoing and specialized trainings are required. (For information on basic training tools on gender and VAWG, see Section VI: Staff Training and Capacity Building.)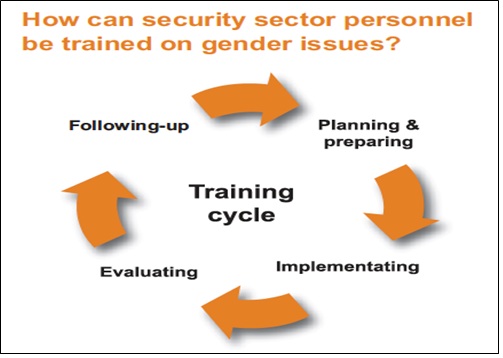 Source: DCAF, OSCE/ODIHR & UN-INSTRAW. 2008. "Gender Training for Security Sector Personnel (Practice Note 12)," pg. 3. Eds: Megan Bastick, Kristin Valasek.
Additional Tools
For more information on training tools, see the Security Module.
Also see:
United Nations Criminal Justice Standards for United Nations Police (United Nations Office on Drugs and Crime (UNODC) and United Nations Department of Peacekeeping Operations, 2010) This handbook collates the main human rights standards applicable to policing. Available in English.
Training Curriculum of Effective Police Responses to Violence against Women (UNODC and Department of Peacekeeping Operations, 2010). The present training curriculum is designed to help develop within local and national police the knowledge and skills required to respond in an effective and appropriate manner to violence against women—specifically violence within intimate relationships. Available in English.
The Family Support Unit Training Manual. See in particular "Module 6: Domestic And Gender Based Violence (Sierra Leone Police/Ministry of Social Welfare, Gender and Children's Affairs, 2008). This ten-module training manual is an improved version of the training manual on Joint Investigation of Sexual and Physical Abuse in Sierra Leone that had been originally developed by the FSU. It provides an overview of the requisite professional skills applicable to the work of the Sierra Leone Police and personnel of the Ministry of Social Welfare, Gender, and Children's Affairs [MSWGCA] who happen to be core partners within the FSU. Available in English.
Responding to Violence Against Women: A Training Manual for Uganda Police Force. (Alal, Y./Kampala: Centre for Domestic Violence Prevention (CEDOVIP), 2009). The handbook is co-published by Center for Domestic Violence Prevention (CEDOVIP) and The Uganda Police Force (UPF), and provides background information on the problem of domestic violence as an abuse of human rights within our communities and provides guidelines on how to interview the victims, children who are affected by domestic violence as both victims and witnesses, and the perpetuators of domestic violence. Available in English.
5. Ensure recruitment, retention and advancement of female personnel
Develop an organisational culture that promotes gender equality within security services (Bastick et al. 2007)
Consider establishing strategic targets for female recruitment and retention
Update recruitment policies and practices to ensure they are attracting a full range of qualified individuals, including from under-represented groups.
Update job descriptions to accurately reflect the skills required in modern policing.
Revise and adapt human resources policies to ensure they are non-discriminatory, gender-sensitive and family-friendly.
Establish female police associations and mentor programmes.
Review job assessment standards and promotion criteria for discrimination. Implement performance-based assessment reviews.
Ensure equal access to job training for career advancement (excerpted from OSCE/ODIHR, INSTRAW, DCAF, 2008, p. 3).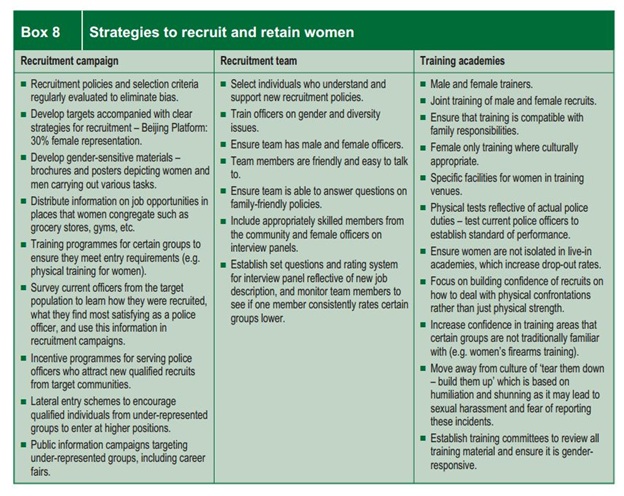 Excerpted from Denham, T. 2008. "Police Reform and Gender," pg. 12. In Bastick, M. and Kristin, V. (eds.) Gender and Security Sector Reform Toolkit. Geneva: DCAF, OSCE/ODIHR, and UN-INSTRAW.