In conflict/post-conflict settings, security sector personnel play a crucial role in the response to victims of violence. This may include: rescue operations, arrest and apprehension of perpetrators, conduct of interviews and investigations, conduct of forensic interview and medico-legal examination, enforcement of protection orders (where applicable), and recording/reporting in a confidential manner details of the crime. (Philippine National Police (PNP), National Commission on the Role of Filipino Women, and UNFPA, 2008.) Services provided in response to allegations of violence must be gender responsive from the outset to protect victims from further harm and facilitate redress for the crimes committed against them. This can prevent re-victimization of women and girls in the immediate response to an incident or during the investigation process. An appropriate response can ensure that victims receive the wider medical, legal and socio-economic assistance to which they are entitled and facilitate the prosecution of the perpetrators of violence (adapted from Security Module).
Gender responsive policing can however be hindered by many challenges in conflict/post-conflict settings:

Broad community security issues;

VAWG cases are not reported;

Impossibility of properly collecting evidence;

Difficulties in locating and identifying suspects;

Lack of safety and security for witnesses and survivors;

Harassment resulting in retracting or hostile witnesses;

Weak legal/justice sector;

Ineffectual referral system due to the destruction or displacement of networks and support services;

Too few female members of the police force (excerpted from UNDP/NEPAL, 2010, p. 6).
Despite these challenges, security sector personnel providing police services to victims of violence in conflict/post-conflict settings should consider the following approaches to improve service-delivery (adapted from Security Module):
1. Promote systematic and appropriate responses to incidents of violence
Develop detailed guidelines and protocols and procedures to guide officers receiving the initial call for assistance or arriving at the scene of the incident.
Institutionalize and systematically apply technical standards and quality of service across all police stations or relevant security force units.
Tailor the protocols and procedures to the specific context and foster ownership among those using or affected by them.
Implement specific operational procedures and codes of conduct (related to deployment, patrolling patterns) to better protect women and girls.
Research has shown that women with certain identities (e.g. migrants, those from ethnic minorities, etc.) may face additional discrimination, harassment and even violence from police when they seek help. Some states have sought to sensitize police officers by incorporated trainings on violence against individuals at greater risk.
2. Establish procedures for the effective investigation and documentation of cases of VAWG
Ensure that techniques do not degrade or further traumatize the survivors and that minimize intrusion into their lives.
Ensure that the investigation maintains standards for evidence collection that can contribute to future prosecution of cases, if the woman or girl chooses to pursue legal recourse.
3. Ensure that the response is survivor-centered and occurs in an environment that
Promotes the dignity of the survivor.
Ensures their physical and emotional safety.
Does not blame or judge the survivor.
Does not minimize their experience or question the truthfulness of their allegations (Sierra Leone Police/Ministry of Social Welfare, Gender and Children's Affairs, 2008).
4. Strengthen community-level coordination as part of a multisectoral referral network
(Re)develop effective referral systems established through cooperation and coordination with other sectors as these provide essential services to survivors of VAWG in conflict such as medical care and psychological counselling, protection and shelter, socio-economic support and legal advice. Security sector actors should also coordinate and collaborate with each other in their efforts to prevent and respond to VAWG (adapted from Bastick et al, 2007). In deciding what kinds of referrals to make, it is important to balance:

Victim safety: What is the risk to the victim/survivors? (See below: Handouts: Risk Assessment and Safety Planning Questions)
Victim preferences: What does the victim/survivor feel comfortable to do? What sorts of services does the victim/survivor think will help her/him?
Prosecution of perpetrators: What interventions will help you to bring the offender to justice? (Sierra Leone Police/Ministry of Social Welfare, Gender and Children's Affairs, 2008)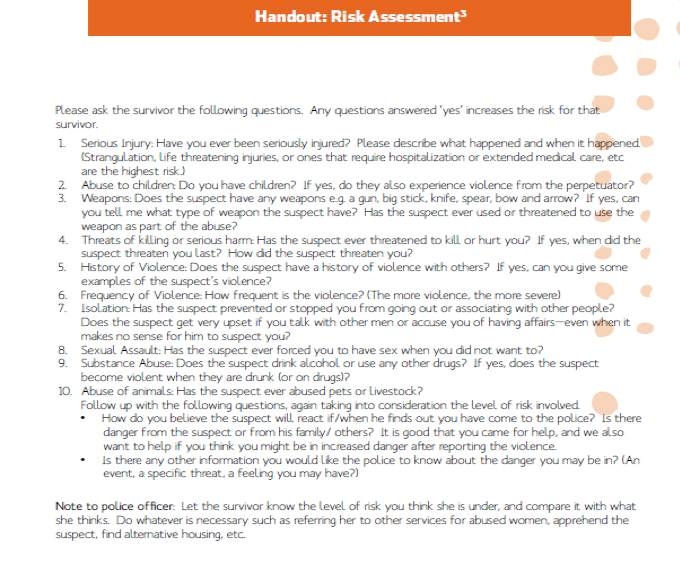 Source: Alal, Y. 2009. "Responding to Violence Against Women: A Training Manual for Uganda Police Force," pg. 46. Kampala: Centre for Domestic Violence Prevention (CEDOVIP).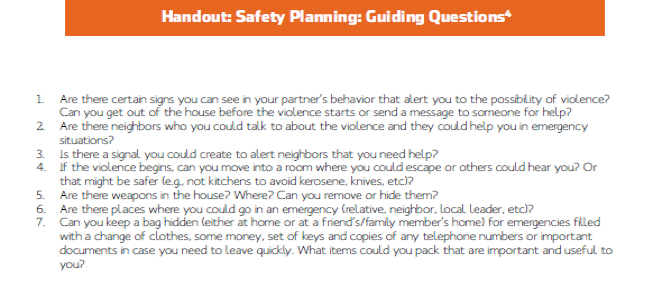 Source: Alal, Y. 2009. "Responding to Violence Against Women: A Training Manual for Uganda Police Force," pg. 47. Kampala: Centre for Domestic Violence Prevention (CEDOVIP).
5. Improve community-level security and partnerships
Strengthen community trust, collaboration and engagement with security actors, raise awareness of and to promote zero tolerance for violence against women and girls through community-based policing and coordination with informal security providers and alternative mechanisms.