Whereas the ecological model underscores the importance of a society-wide approach to understanding and addressing risk factors linked with violence against women and girls, and the multisectoral framework highlights the responsibilities within and across key sectors for prevention of and response to violence, the "systems" approach speaks directly to the responsibilities across relevant health service-delivery organizations to develop effective, efficient and ethical services.
This approach focuses on developing resources and skills across an entire organization, not just training individual providers (Heise, 1999 cited in Bott et al., 2004; USAID, 2006). Key elements of a systems approach might include: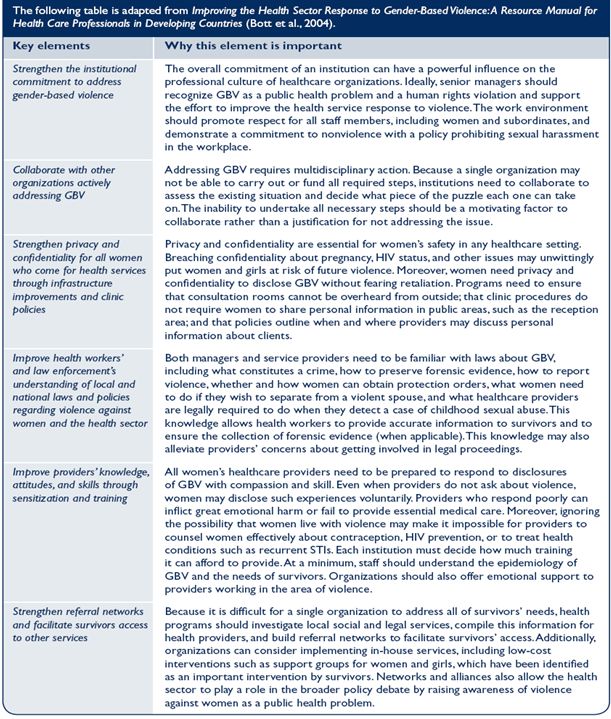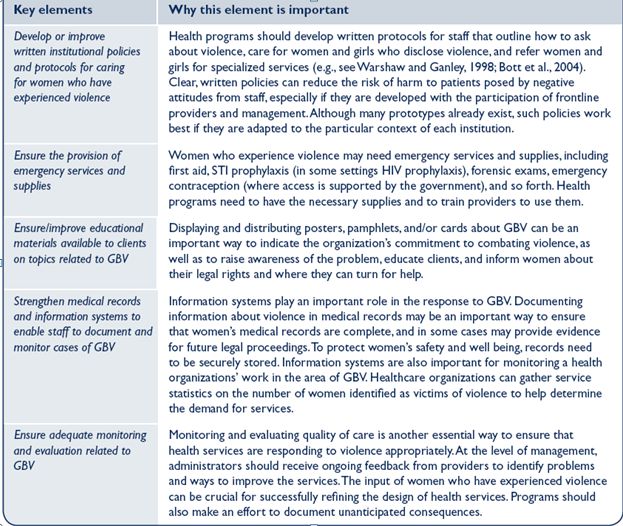 Excerpted from USAID, 2006. Addressing Gender-Based Violence through USAID's Health Programs: A Guide for Health Sector Program Officers. Washington, DC, pp. 26-27. and adapted from Bott, S., Guedes, A., Claramunt, C., and Guezmes, A., 2004. Improving the Health Sector Response to Gender-Based Violence: A Resource Manual for Health Care Professionals in Developing Countries. New York: International Planned Parenthood Federation, Western Hemisphere Region. Available in English and Spanish.
Case Study: The International Planned Parenthood Federation/ Western Hemisphere Region (IPPF/WHR) Regional Initiative to Address Gender-Based Violence
Following the International Conference on Population and Development in Cairo, 1994 (ICPD), The International Planned Parenthood Federation/ Western Hemisphere Region took steps to help member associations incorporate a new vision of sexual and reproductive health and to improve the quality of service delivery programmes by integrating a gender perspective. Within this context, the International Planned Parenthood Federation/Western Hemisphere Region carried out trainings and evaluations focused on gender to raise consciousness among association staff. During this process, clients and providers repeatedly mentioned physical and sexual violence as an issue that merited attention. This led to the Regional Initiative to Address Gender-Based Violence which was carried in four member associations in Latin America: Profamilia (the Dominican Republic), INPPARES (Peru), and PLAFAM (Venezuela), with some participation from BEMFAM (Brazil). Exemplifying a "systems approach", the initiative involved the following four components:
1) Improving the capacity of sexual and reproductive health service delivery programmes to care for women who experience violence;
2) Raising awareness of violence against women as a public health problem and a violation of human rights;
3) Advocating for better laws and application of the laws related to gender-based violence and;
4) Increasing knowledge about effective health service interventions in the area of gender-based violence.
The first objective, strengthening the health service response, involved a broad package of reforms throughout the organizations. This was done in a variety of ways. In some affiliates, services already existed (such as emotional support units), but were strengthened through training and the implementation of institutional policies. In other cases, affiliates had to hire staff capable of providing the needed assistance. In some locations, International Planned Parenthood Federation member associations were able to establish partnerships with existing non-governmental organizations to which they could refer women for specialized services, such as in the Dominican Republic, where women were referred to two non-governmental organizations (depending on their city of residence) that provided legal counselling. To ensure a thorough evaluation of the initiative, the participating facilities developed baseline, midterm, and follow-up studies using standardized indicators and instruments as well as systems for gathering service statistics on screening levels, detection rates, referrals, and specialized services. Each association documented case studies on pilot services, and regional office staff monitored the work of the associations through site visits and informal interviews with providers, managers and clients. The initiative was funded by the European Commission and the Bill and Melinda Gates Foundation. Additional support was provided by the Ford Foundation and the MacArthur Foundation. (Excerpted from: Guedes, 2004)
See additional information and access the evaluation findings in English.
See the tools produced under the initiative:
Improving the Health Sector Response to Gender-Based Violence: Produced in collaboration with the Pan American Health Organization (PAHO) and the "UNITE to End Violence against Women" campaign, this manual provides tools and guidelines for health care managers in order to improve the health care response to violence against women in developing country settings. It includes practical tools to determine provider attitudes to gender-based violence, legal definitions and responsibilities, and quality of care. This manual is based on the experiences of the International Planned Parenthood Federation/Western Hemisphere Region initiative to integrate services for victims of gender-based violence into sexual and reproductive health programmes.
¡Basta! Women Say No to Violence: This video is intended as a general sensitization tool on the issue of gender-based violence, providing key definitions and addressing some of the most common myths about gender-based violence.
¡Basta! The Health Sector Addresses Gender-Based Violence: This training video for health care providers and others who may be in a position to help women living in situations of violence, frames the issue of violence against women as a human rights violation and a public health problem.
Using a Systems-model Approach to Domestic Violence Prevention Services in a Health Care Setting in the United States
Kaiser Permanente Northern California's Family Violence Prevention Program in the United States sought to improve the identification, prevention, and treatment of domestic violence by treating it as a serious health condition and using a "systems model" approach. The components of the programme using this approach included the creation of a supportive environment that encourages patients to disclose domestic violence to their providers, routine inquiry of patients, and referrals to mental health providers and community advocates for survivors of domestic violence.
The programme led to a fivefold increase in the number of patients identified as being victims of domestic violence. Of these patients, a high percentage received follow up services with high levels of patient satisfaction reported across the 25,000 members surveyed.
The Kaiser Permanente "systems model" approach and tools have been adapted and upscaled for use across numerous clinical settings including: expansion to all eight Kaiser Permanente regions and other health services across the United States; in community clinics across Bangalore, India; and to inform domestic violence services in Dunedin, New Zealand.
Read the full case study and download the additional resources.
Source: Brigid McCaw, MD, MPH, MS (Brigid.McCaw@kp.org) Medical Director, Family Violence Prevention Program, Kaiser Permanente.