There is no single model for addressing violence against women and girls within the health sector, which is related to the lack of an evidence-base for comprehensive health sector programming. However, there are several overlapping and inter-related models that have been used globally and that are important for those working in the health sector to know and understand. The

ecological model

, the

multisectoral approach

, and an

integrated model

for services described below are all strategies to adopt when trying to respond to GBV. The multisectoral approach references the agency and sector level, while the ecological and integration models reference the health service-delivery level.
These models can inform the development of health sector action plans, policies and protocols. They can also inform the practical approaches that are relevant to different country and health programming contexts.
1. The ecological model: from individual response to social change.
The ecological model, described in detail in the module on

Primary Prevention

, provides a method for understanding some of the key factors that contribute to women's and girls' risk of violence. The model is organized in terms of four levels of risk: individual, relationship, community, and society. The model highlights the importance of understanding the complex interplay of biological, psychological, social, cultural, economic and political factors that increase women's and girl's likelihood for experiencing violence (and men's likelihood for perpetrating violence).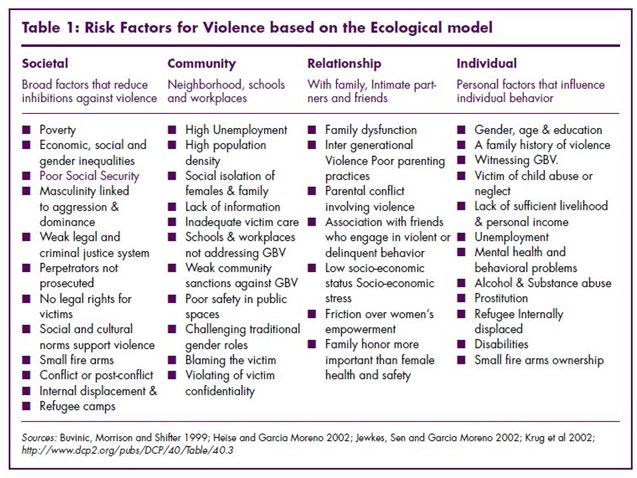 Health care providers can use the ecological model not only to understand the risk factors that affect women and girls in the communities in which they live, but also to consider what interventions they should undertake in order to address and reduce risks at these different levels.
The ecological model highlights the fact that if the health sector is going to effectively implement violence prevention and response programming, it will have to consider all of the factors that contribute to its perpetration, and develop strategies for identifying and caring for those at risk, as well as for reducing and/or eliminating risk through broad-based prevention programming. Using the ecological model can help health care providers shift from a individualistic, bio-medical orientation to service delivery, to a more holistic approach to health interventions that not only target individual health needs, but also address the need for social change.
Level
Examples of Selected Risk Factors Related to Violence
Examples of What the Health Sector Can Do
Programming Examples
Individual

Young age
Early age of marriage
Isolation
Substance abuse
Individual attitudes that justify and/or accept violence

Screening young girls who are married for risk of violence
Substance abuse services
Clinic and community-based education efforts (theatre, videos, pamphlets, talks, etc.)
Gender-based violence prevention within HIV/AIDS and adolescent reproductive health programs

Program H

Stepping Stones Puntos de Encuentro

Relationship

Marital conflict and instability
Male infidelity and polygamy
Male dominance in the family and/or controlling behaviour by male partners

Programs for men aimed at promoting gender equitable relationships and changing norms, attitudes and behaviours

Men as Partners

Also see the module on Men and Boys

Community

Community norms and beliefs that justify, excuse, or facilitate violence against women and girls
Weak institutional responses to violence against women and girls
Lack of support systems for women in the community

Strengthen community support for survivor services
Strengthen coalitions and networks

Minga Peru

CHARCA

SASA!

Stepping Stones

Society

Lack of legal systems to address violence against women and girls
Society-wide social norms and cultural beliefs that justify, excuse, or facilitate violence against women

Reforms of laws and policies regulating the medico-legal system (e.g. introduction of forensic nurses)
Reform of laws and policies regulating health care provider's obligations vis-à-vis victims of gender-based violence
Mandatory reporting laws/policies
National health policies and protocols
Laws/policies governing forensic medicine; provider obligations, abortion, EC and patient confidentiality

See

Review laws and policies

below, as well as the module on Developing Legislation on Violence Against Women and Girls
2. The multisectoral framework: engaging all stakeholders in prevention and response.
Programming experiences from the field have revealed that no single sector or agency can adequately address violence against women and girls. The multisectoral model calls for holistic inter-organizational and inter-agency efforts that promote participation of those affected by or at risk of violence, interdisciplinary and inter-organizational cooperation, collaboration and coordination across key sectors including (but not limited to) health, psychosocial, legal/justice and security (Ward, 2005). Sectors include all the institutions, agencies, individuals and resources that are targeted towards a specific goal (e.g., the health sector includes the Ministry of Health, hospitals, health care centres, health care providers, health care administrators, health care training institutions, health supplies, etc.).
The multisectoral model draws from models of a 'coordinated community response

'

to domestic violence originally introduced in industrialized settings and now being used throughout the world. In general, the multisectoral model is the equivalent of applying a coordinated community response at the national level.

The multisectoral model explicitly highlights responsibilities unique to each sector. Members of the health sector must not only understand their role in promoting a multisectoral framework, they must also have a basic understanding of the some of the key roles and responsibilities of other relevant sectors. The following is a brief summary of some of those roles and responsibilities.
The health sector should train providers across a wide variety of health services to recognize and address violence against women and girls; ensure same sex interviewers for individuals who have been exposed to violence; respond to the immediate health and psychological needs of the woman or girl who has been exposed, including

safety planning

; institute protocols for treatment, referral and documentation that guarantee confidentiality; provide violence -related services free of cost; and be prepared to provide forensic evidence and testimony in court when authorized by the individual.
The psychosocial sector should be able to provide immediate support (e.g. through support groups); information on what the woman's rights are and where she can seek recourse if she desires; ongoing psychological assistance, which requires the training and on-going supervision of social workers and community services workers; and facilitate referrals for other services as necessary. Education and income-generation supports are also considered under the umbrella of psychosocial programming within this multisectoral model.

Education systems

should ensure

curricula

on "safe touch," healthy relationships, and basic human rights; institute codes of conduct for all teachers as well as training on identifying risk signs among children; and provide school-based services for children who have been exposed to violence. Income-generating projects should not only promote women's economic self-sufficiency, but also monitor for domestic violence risks and integrate human rights education into project activities.
The legal/justice sector should be able to provide free or low-cost legal counselling, representation and other court support to women and girls who have been exposed to violence; review and revise laws that reinforce violence against women and girls; enforce laws that protect women and girls and punish perpetrators; monitor court cases and judicial processes; provide orders of protection and other legal safety mechanisms for survivors; and monitor perpetrators' compliance with court-ordered rehabilitation (e.g., batterer programmes).
Within the security sector police, military and other security personnel should be educated about violence against women and girls and be trained on how to appropriately intervene in cases of violence against women and girls. Police should have private rooms to ensure confidentiality and safety of survivors reporting victimization; ensure same sex interviewers; institute protocols for referrals to other sectors; collect standardized and disaggregated data on incidents; and create specialized units to address violence against women and girls.
Some of the crosscutting functions of each of the sectors include engagement and education of the community, safe and confidential data collection, and monitoring and evaluation. Another critical component is inter- and intra-sectoral coordination, including the creation and monitoring of reporting and referral networks, information sharing, and participation in regular meetings with representatives from the various sectors.
A key principle underlying the multisectoral approach is that the rights and needs of survivors are pre-eminent, in terms of access to respectful and supportive services, guarantees of confidentiality and safety and the ability to determine the course of action for addressing the incident.
Another essential element of the multisectoral approach is close cooperation with local women's groups. Women and girls must be included from the beginning of programme design and maintain an active role throughout programme monitoring, evaluation and on-going programme development. (See

guiding principles

for more information.)