Improving access to justice at the national level in a conflict/post-conflict setting requires long-term commitment on the part of all stakeholders. Those within the legal/justice sector must coordinate amongst themselves as well as engage with actors in other sectors to protect and promote the rights and needs of survivors. Facilitating justice sector interventions should never be seen as a stand-alone activity, but rather part of a larger framework for multi-sectoral response.
VAWG actors must consider the specific context and needs of survivors—as well as the particular challenges survivors may confront in accessing justice—in order to identify strategies to ensure full implementation of VAWG protections. Examples of challenges to accessing justice in post-conflict settings include:

Dearth of laws and policies protecting survivors.

No functioning police force, courts or survivor advocates.

Pursuing prosecution may put survivors at greater risk of violence due to lack of protections from the perpetrator, his family and the community.

Victims/witnesses may not appear for scheduled court appearances due to lack of information, lack of subpoenas, witness intimidation, lack or transportation, childcare responsibilities, re-victimization in court, or any number of other factors; cases may be dismissed or repeatedly postponed if witnesses are not present.

Absence of court staff or insufficient knowledge among judges and lawyers of laws/policies related to VAWG may result in cases being mishandled or dismissed.

Insufficient resources for legal systems may result in long delays in legal processes for any type of criminal matter; in cases of VAWG, victims are likely to become discouraged and (especially without adequate emotional support and legal support) withdraw their participation in the proceedings.

Women who face multiple forms of discrimination (e.g., on the basis of race, sexual orientation, gender identity, ethnicity, disability, age) may find it even more difficult to access justice and therefore require targeted assistance

VAWG may not be prioritized among other conflict-related atrocities. (adapted from UNDP, 2010).
An assessment of the justice/legal sector will reveal the particular challenges in a given context and can assist with planning and guiding sector-wide reform activities and strategies. It is important to assess the various components of the sector both individually and in terms of how they work together and examine a number of facets:

Physical capacity: Buildings, along with their infrastructure, internal hardware, furnishings, and accessibility to all bodies; equipment (e.g., weapons and cars)

Human capacity: Staffing of the institutions in terms of numbers and qualifications, particularly in terms of understanding how to handle VAWG cases

Mandates, policies, and procedures: Governing laws, regulations, and internal policies that define the duties and powers of the institutions as well as accountability mechanisms and reporting procedures

Budgetary support: Financial and in-kind support that is officially designated to the institutions (UNODC and United States Institute of Peace, 2011, p. 21).
Some useful questions are listed below to help guide an assessment of the legal/justice sector. These questions are directly applicable to assessing access to justice, are applicable to both state and non-state mechanisms, and can be adapted to focus specifically on the capacity of the legal/justice sector to address VAWG. The questions are divided according to 6 key topics, or 'elements': Legal Framework, Legal Knowledge, Advice and Representation, Access to a Justice Institution, Fair Procedure, and Enforceable Solution (American Bar Association, 2012).
1. Legal Framework

2. Legal Knowledge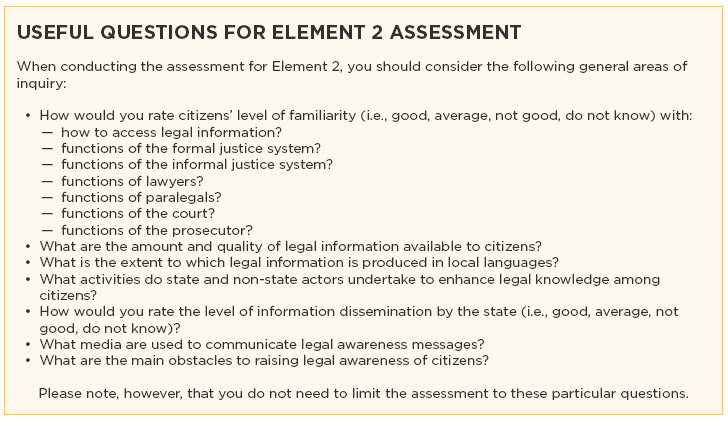 3. Advice and Representation

4. Access to a Justice Institution

5. Fair Procedure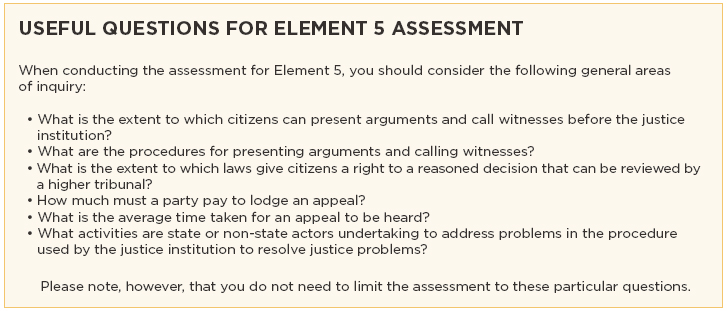 6. Enforceable Solution

Excerpted from American Bar Association. 2012. Rule of Law Initiative's Access to Justice Assessment Tool, pp. 7-40.
Once an assessment has been conducted, project design and activities can be developed to improve the legal/justice sector and involves:

Improving service delivery to survivors of violence and women and girls at risk.

Establishing governance and oversight mechanisms that hold the sector accountable.
Additional Tools
For more information on access to justice assessments see American Bar Association, Rule of Law Initiative. 2012. "Access to Justice Assessment Tool. A guide to analysing access to justice for civil society organizations." This manual is a comprehensive guide to access to justice research for novice and experienced researchers. It concentrates on explaining the basic skills and concepts necessary for research to be useful and reliable. Available in English.
Another example of a thorough assessment tool can also be found at: Bureau for International Narcotics and Law Enforcement Affairs, United States Department of State. No date. "Criminal Justice Sector Assessment Rating Tool. A U.S. Government Inter-agency Project to Assess the Capacity of International Criminal Justice Systems." Available in English.
The situational analysis tool by in the Gender-based Violence Tools Manual for Assessment & Program Design, Monitoring and Evaluation (RHRC, 2004) includes basic assessment questions for the legal/justice sector: Available in English.
Additional Resources
Gender-Based Violence in Southern Sudan: Justice for Women Long Overdue. (Allard K. and Lowenstein International Human Rights Clinic at Yale Law School. No date.) A Study for the Enough Project that examines the extent and sources of gender-based violence in southern Sudan and analyzes the ability of survivors of violence to secure justice. Available in English.