Monitoring and evaluation is an integral part of programming and should be considered across the cycle (assessment, planning, design, implementation and evaluation).
Monitoring and evaluation should not be thought of or conducted in tandem or alongside the programme, but rather should be viewed as part of the programme and should be considered before any intervention takes place.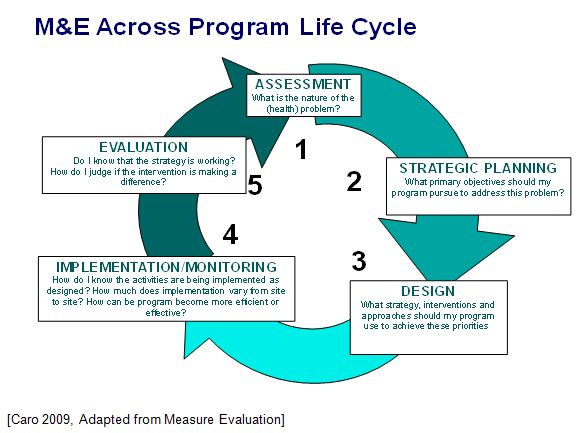 To ensure that monitoring and evaluation is part of any programme or intervention, there are important steps to be taken, including:
conducting a situation analyses/needs assessment before or while the programme/intervention is being planned;
developing a monitoring and evaluation framework that explains how the programme will work; how it will reach its goal and objectives and how it will be determined whether the programme is reaching those objectives and contributing to the goal;
developing a monitoring and evaluation plan that lays out the process for how the programme or intervention will be tracked, and how it will be examined or assessed overall; and
the collection of data at the beginning of the programme (baseline) and at the end of the programme.