The
EQUITY Tanzania
communication strategy for its campaign promoting effective Implementation of the Sexual Offenses Special Provisions Act is a good example of a straightforward communications document. On one page, it summarizes the problem, the planned intervention, the anticipated change, the indicators for success, and the communication channels. The second page visualizes the stakeholder analysis and the timeline; it lists the media that have agreed to support the strategy, and discusses issues of sustainability. The document is available in Making a Difference: Strategic Communications to End Violence Against Women
(UNIFEM, 2003).
The Soul City Institute for Health and Development Communication Soul City (South Africa) uses multi-media 'edutainment' to inform the public, raise awareness, and foster change in attitudes and behaviours related to key health and development issues. Soul City Series 4, which addressed violence, has included:
A 13-episode prime time television drama
A 45-episode radio drama in nine languages
Distribution of three full-color information booklets (with a nationwide distribution of one million copies each)
Community events (including school-based programmes)
Formative research to develop and pre-test communication tools with experts and target audiences (men and women 16-65 years old from metropolitan and rural areas) accompanied the planning, implementation and evaluation of the communication strategy.
Results: Soul City 4 reached 82% of the population in South Africa. Qualitative and quantitative research noted small increases in knowledge and awareness on domestic violence and related laws and services. However, in the short-term (less than a year), no changes were reported on key attitudes, including: "As a head of household, a man has the right to beat his wife", despite an overall 11% increase in the proportion of men that indicated that women never deserve to be beaten. These contraditictions demonstrate the complexity of measuring attitudes regarding violence and that change is a long-term process.
Read the Soul City case study.
This is a public education campaign run by the US Family Violence Prevention Fund (now called Futures without Violence), the Ad Council and the US Office on Violence Against Women (OVW) to prevent teen dating abuse. It summarizes its strategy as follows:
Objective: To prevent teen dating abuse by helping teens acknowledge that digital infractions can be a form of abuse.
Guiding Spirit: Draw your digital line.
Key Message: Digital violations can be forms of abuse.
Desired Response:
- Visit ThatsNotCool.com to learn more and talk to others
- Connect the dots between digital infractions and other forms of abuse.
The campaign uses digital examples of controlling behaviour online and by cell phone to encourage teenagers to draw their own line about what is, or is not, acceptable relationship behaviour.
Its multi-pronged communication strategy includes an animated website that playfully alerts a teenage audience to the risks of dating abuse in virtual spaces. Site visitors can watch interactive videos that offer different options for action, or download attractive texts and images ("callout cards") that can be sent via mobile phones to peers or other persons who display over-controlling or disrespectful behaviour (e.g. mobile stalking, or pressuring girls to send nude photographs).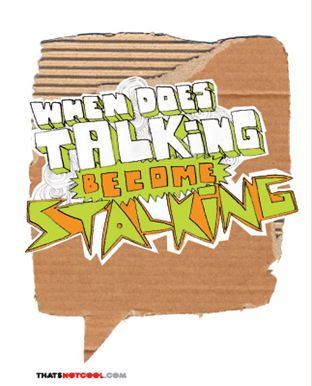 In addition, That's Not Cool has disseminated its message through radio and television public service announcements (PSA), outdoor posters in schools and malls, campaign materials (T-shirts, stickers) web ads and activities/events at public venues, such as rock concerts and street festivals. Sample videos, such as the example below, can be viewed on a dedicated YouTube internet channel. Communication tool development involved extensive research and pre-testing with the target audience.
Watch a campaign video.
Results: Within six months (January-June 2009), That's Not Cool attracted 374,746 unique web site visits, approx 71% of which were by new visitors. Some 6,000 callout cards were sent during the same time-span; over 1,200 posts were made on the website's Talk It Out section. 152,726 YouTube video views were recorded. During the first quarter of 2009, the campaign demonstrably increased chats at the Teen Abuse Helpline by 69%. The campaign succeeded in mobilizing more than US$ 7.5 million worth of donated media, i.e. free advertisements and air time on radio and TV.
See the website to download callout cards, games and videos.
Tool:
The UNIFEM publication guide on strategic communications to end VAW, Making a Difference: Strategic Communications to End Violence Against Women (2003) includes presentations of effective campaign communication strategies which can serve as models.