Being models for change: Campaign staff and activists should be role models for gender equitable norms, and violence-free interaction with others that is based on openness, respect and dialogue. It is not only the verbal campaign message that matters: campaigners who fail to live up to campaign values in their daily practice and private lives may lack credibility and jeopardize the success of the campaign.
Example: We Can End All Violence against Women (South Asia)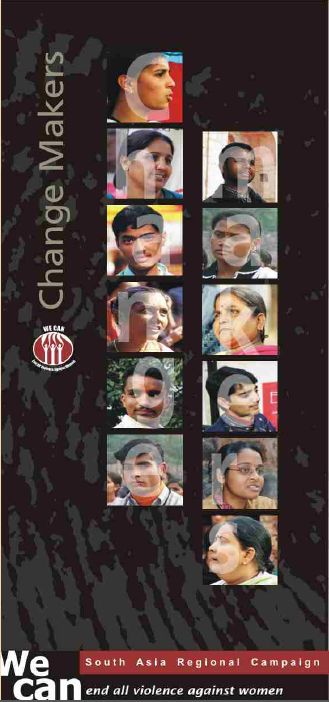 The "We Can End All Violence against Women" Campaign, first launched in South Asia in 2004, has successfully called upon all individuals and members of organizations joining the campaign to become "Change Makers" in their own right and promote equal, violence-free relationships as part of their private lives. The Campaign developed guiding principles to ensure continuity among participants. See the Campaign website for Change Maker testimonies.
Starting with an 'insider' initiative: Before embarking on a public campaign to end VAW, organizations and alliances that are not specialized in VAW-related work are advised to first run an "internal" campaign to enhance gender sensitivity and understanding about VAW within their own organizations (Jolly, 2002. Gender and Cultural Change). Such 'insider' initiatives do not only yield precious learning for the subsequent campaign, but they help to reinforce appropriate messages and behaviour, and stress the importance of ethical rules in campaigning. Also, men and women in these organizations who may have successfully ended VAW in their own lives can be powerful spokespersons, strengthening credibility and cohesiveness of campaigns.
See also Guiding Principles: Adhering to ethics in campaigning.