In addition to the previous provisions, laws should detail police responsibilities for specific forms of violence
Legislation related to domestic violence should:

state that police and other law enforcement officials are obligated to pursue all cases of domestic violence, regardless of the level or form of violence.

require the police to give domestic violence calls the same priority as other calls involving violence.

require the police to perform certain duties as part of the investigative process, including interviewing parties separately, recording the complaint, filing a report, and advising the complainant/survivor of her rights under the law (See for example, the law of India)..

specifically preclude the use of warnings to violent offenders as a part of the police or judicial response to domestic violence. Warnings do not promote offender accountability or communicate a message of zero tolerance for violence.

require that police officials develop policies for implementation of domestic violence laws that provide specific directives to front-line law enforcement. For example, complete and accurate documentation of domestic violence incidents through police reports is an essential component for offender accountability (See the law of Namibia, Part IV 26 and 27).

ensure that specialized police units are created for the investigation and prosecution of domestic violence cases. These units should be women-only units so that complainant/survivors are more likely to seek assistance (See for example, the law of Zimbabwe, which notes that "where a complainant so desires, the statement of the nature of the domestic violence shall be taken by a police officer of the same sex as that of the complainant" Section 5).

require police to develop a safety plan for complainant/survivors.

provide sanctions for police who fail to implement the provisions (See the law of Albania, Article 8).

establish specific measures related to:
− Lethality or risk assessments
− Mediation or assisted alternative dispute resolution
− Determining the predominant aggressor
− Probable cause standard of arrest
(Excerpted from and see the Police Duties in responding to Domestic Violence sub-section of the Legislation module for details on illustrative examples and promising practices)
Example: Police Domestic Violence Response Procedures in Ghana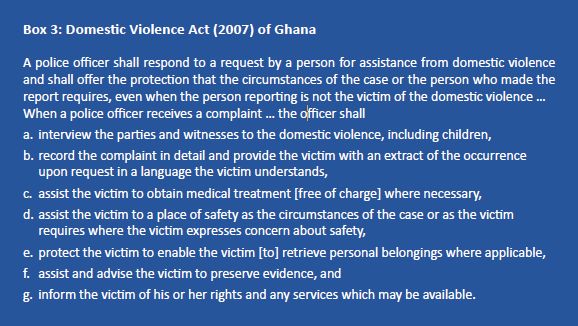 Excerpt: Gaanderse Miranda, and Kristin Valasek. 2011. "The Security Sector and Gender in West Africa: A Survey of Police, Defence, Justice and Penal Services in ECOWAS States." DCAF. Geneva.