Top management have both the power and ability to influence structures and behaviour of staff under their supervision, particularly in highly hierarchical organizations such as ministries of defense, police and military institutions.

Strong leadership is necessary to counter the culture of impunity which may exist in some security institutions and units, and can help to change discriminatory attitudes among staff and ensure management prioritize and take responsibility for addressing the issue within the organization.

Mobilizing and sustaining the will of leaders and other 'gender champions' is a critical investment to ensure that adequate financial, human and related resources are devoted to the implementation and monitoring of relevant laws and policies, as well as operational reforms required to improve services to survivors (OECD/ DAC, 2009; Saferworld, 2010).

Efforts to increase the knowledge and capacity of the most senior politicians and officials within security institutions, toward strengthening their commitment to the issue and improve security practices related to violence against women, include (Albrecht and Barnes 2008):

Appoint a senior member of government with responsibility for promoting gender equality and/or reducing violence against women and girls. For example, in 2009, Sierra Leone's Ministry of Defense and Armed Forces Gender Reference Group developed a gender mainstreaming initiative across the armed forces which included the establishment of a sexual harassment board focused on women and girls. The leadership of the former Chief of Defense was crucial for leveraging the ministry and armed forces' work on gender down the command structure.

Engage a high profile figurehead(s) to champion women, peace and security issues at a national and international level with an explicit role to advocate for the greater allocation of resources to address the issue.
Examples
Ireland: Since 2005, the former Irish President and UN Human Rights Commissioner has been a special adviser to the Irish Joint Consortium on Gender Based Violence, comprised of 14 human rights, humanitarian and development organizations, together with Irish Aid and the Irish Defense Forces. She meets with the Consortium annually to review progress on addressing violence against women and holds a public press conference to report on progress. Her involvement demonstrates the Irish Government's consistent high-level support to address the issue internationally, has contributed to the development of a National Action Plan on Women, Peace and Security and a significantly increased budget for addressing violence against women both domestically and internationally (Irish Joint Consortium on Gender Based Violence, 2008).
Australia: In 2002, the State of Victoria Chief Police Commissioner requested a review of the organization's policies and responses to violence against women. This resulted in a range of strategies, codes of practices, risk assessment processes and other initiatives to better respond to family violence, sexual assault and child abuse. With the support of the Victoria Police leadership, the local government developed a state-wide integrated response to family violence, which has engaged police, courts and non-governmental family violence services to develop and continuously improve the response to survivors. Police commitment has contributed to the development of 25 specialist sexual assault and child abuse investigative units across the state and three integrated sexual assault service centres with presence of police, counselling, child protection services and medical forensic facilities.
Timor-Leste:
In November 2007, as part of the global
16 Days of Activism to End Violence Against Women
, UNIFEM, with support from the
UN Integrated Mission in Timor-Leste
, the Secretary of State for the Promotion of Equality and the Association of Men Against Violence launched a multi-media campaign to raise public awareness on and secure the commitment of leaders to end violence against women. The nationwide campaign featured 11 high-level figures including the President, the Prime Minister, the National Army Chief of Staff, the Deputy Police Commander and the President of National Parliament, advocating for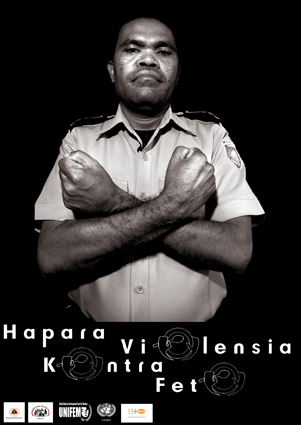 an end to violence against women.
A series of posters, radio and television public service announcements were developed in an effort to heighten public focus, awareness and government response on the issue. The campaign contributed to raising the profile of gender-based violence in Timor-Leste, with greater participation from men in events and discussions related to the topic, as well as greater cooperation between different government institutions (including the Secretary of State for the Promotion of Equality, Ministry of Justice, the Secretary of State for Security, responsible for the national police and the Vulnerable Persons Unit, among others) in the implementation of related policies or programmes. Increased government commitment to addressing violence against women also resulted in the adoption of a
law on Domestic Violence
in 2010.
Deputy Police Commander
,
Commissioner Afonso de Jesus, 2007
Advocate for the inclusion of a representative(s) of the gender ministry/unit on all committees responsible for drafting, reviewing and monitoring implementation of national security legislation and policies.
Implement consultative processes to draft national security laws and policies, drawing on expertise of women's organizations and outside specialists working on women's rights and violence against women.
Examples
In Liberia, consultation with women's organizations during the drafting of the national security policy resulted in the integration of text on gender issues, although specific language on violence against women was omitted from the final version.
In the United States in 1999, at the request of a group of advocates and multidisciplinary service providers, the former Attorney General of Oregon initiated a state-wide Sexual Assault Task Force to facilitate and support a collaborative, victim-centered approach to the prevention of and response to adolescent and adult sexual violence (Oregon Attorney General's Sexual Assault Task Force website).
See also the sections on parliamentary oversight and civil society oversight for details of strategies to work with these actors to build political commitment and government capacity.
Facilitate knowledge exchange, awareness-raising and capacity development opportunities for senior politicians/officials on women's human rights, violence against women and international, regional and national commitments on these issues, including through targeted training programmes.
Produce briefings and analysis on women's security and violence against them, providing concrete suggestions on how to include these issues in security policies and where resources might be more efficiently allocated to finance actions accordingly. This might include: